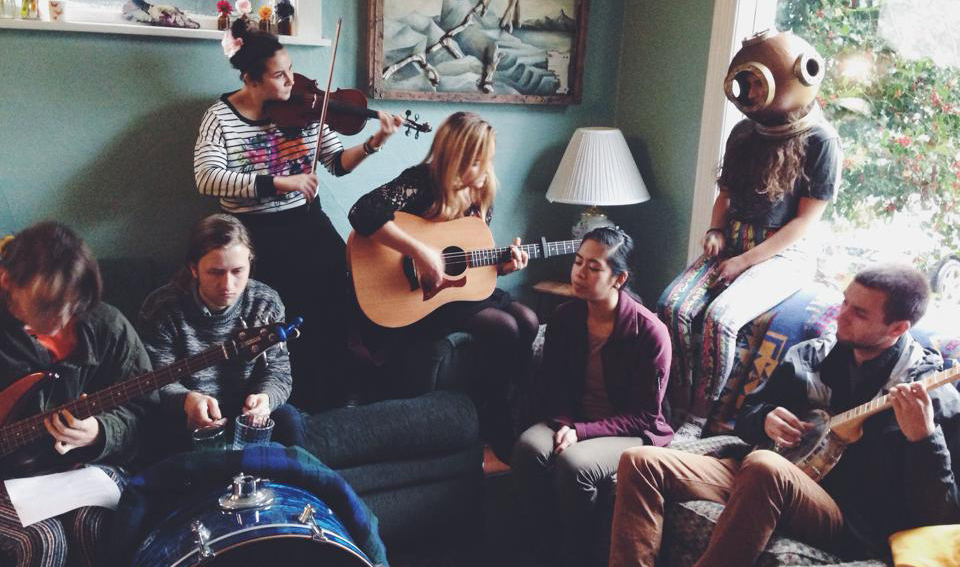 Katey and the Quilt went through several incarnations of their name before settling on the Quilt. They have released YouTube videos under monikers like "The Comfy Couch Space Cadets", "The Russian Rivers", and "The Quilted Sweatshirts" before finally settling on their current form. Notice a theme? They wanted their name to reflect the coziness and camaraderie inherent to their music. Imagine a warm, comfy campfire in the woods, surrounded by friends. They all wield their own instruments and join in on the chorus. Pair that with the natural beauty of the Washingtonian landscape and you get the folky and charming music of Katey and the Quilt.
Katey Sullivan is a San Diego native transplanted to Washington state. Her family is musical by nature: she's released several YouTube videos featuring duets with her sister and has covered her brother (and fellow Villain) Joe St. Thomas's song "Steam, Ice, A Whistle." In fact, she considers Joe's feedback valuable in her development as a musician and songwriter. She herself has been playing music since childhood, ever since she could wrap her arms around a guitar, and uses the guitar and the ukulele to her advantage. She is joined by other Washingtonians Natalia Rios (violin), Mathew Melrose (bass), and Erik Fure (drums) to form Katey Sullivan and the Quilts. Several of her songs also utilize other instruments, including the banjo and drinking glasses!
Together, they will be releasing their new song "Tangerine" on the 2014 Villaintines compilation. They play regular shows in nearby Bellingham, WA and hope to expand their reach to play festivals starting in the summer. In addition, they are slowly but surely working on an EP using university facilities and help from fellow students.
You can view several of Katey Sullivan's originals and covers on her YouTube channel. She also debuted her song "Rabbit Hole" on the 2013 Villaintines compilation.


Loading Videos...